3rd Jul 2013, 6:15 AM
#121
Caley Tibbittz Collopy
Sword dude
Registration date:
6th Mar 2012
Location:
, location -- they say it's important. But where you are can be gone, in the smallest of moments. When breath it gets ragged, when the blood won't stay in... I fought death for your love -- I couldn't possibly win.
RINKEL:
Woo! Total hobbyist right here!

When I was younger I wanted to go pro but now my professional career is geared towards animation so comics are a very cherished hobby of mine (I may try to eventually do a kickstarter thing or hand out books at cons or some shit like that).

A review of TMoS would be appreciated. :3
I love the title, and you have done wonders with the template on your site.
Cover: The cover is lush and nicely detailed. I'm not sure we NEED to know it's a "historical fantasy" in the actual image; regardless, that section of the text is overly dark and saturated, as are the tops of all the big letters in the title (IMO, anyway).
2/disclaimer. Can't you just flip the pages? Also, your JPEG compression is HARSH.
3/prologue. I hate most prologues, but this one is solid and efficient, giving us presuambly just enough contect to understand what's coming. Instead of being a small novel. So, good.
4/title page. Overal I like this a lot, but it's a little pastel. Also, my mother taught me to always color in the same direction on the same object, which would help the tan skirt a little. NITS BE PICKED, YO.
Page 1 (proper). I like your style here, it's very clean. I would get rid of the effects on the letters which are VERY distracting, especially for this kind of story which takes place BEFORE COM-PEW-TORS. Also, I'd reletter the hand-written bit; it's mildly illegible.
I DO NOT NEED GLASSES.
2. Eeeesh, several issues here. First, with your style, you cannot simply stat a camel. DO NOT CAMEL STAT. Trace it if you must. Then in panel two, the sky is green because...? Then in panel 3... is that color supposed to be the camel? Finally: my no balloon tails?
TAIL THEM BALLOONS.
3. While not the world's end, the slanted border between panels 1 and 3 is odd and accomplishes nothing.
4. Panel 3 is too cute, in a bad way. I'd rather see a BALLOON TAIL pointing the building she's in, and a sign reading DANCE on the dance place.
5. Her head is melting in panel 3. Also, I think it's weird to learn important info in random captions. I'd rather another character had commented on her eyes juxtaposing her Japanese looks.
MANGA/ANIME AND ETHNICITY: No manga-style character has ever looked Japanese. At all. Most do not even look human.
Anyway:
6. I'd cut these captions, they add nothing.
7. Good page. The dialogue text should not touch the balloon border though. I'd have made this burst more elliptical at its base.
8. DO NOT TILT TEXT. Argh. Also, I hate panels that are just a dialogue balloon. HATE. Stat an old head if you must.
9. Cut the reiteration -- we saw the prologue, we remember it. Unless we have Alzheimer's.
ALZHEIMER'S IS NOT FUNNY.
10. Good use of an effect.
11. I think it'd read better "Is that... ME?"
12. Didn't real
ly need to sp
lit "in
cred
i
b
l
e
here.
13. GORGEOUS.
14. FLORP. I adore FLORP. I want more FLORP in my life.
LET'S ALL JUST FLORP FOR A WHILE.
16-17. Her face in "panel" 2 is very effective.
18. ...and here's where some slant-y panel borders actually serves the story. Solid.
SOLID.
19. Wonderfully animated. The scream bubble shouldn't overlap her eye though.
/MediocreMindletteringredo.
20. SOLID.
21. I like her expression here, from her face to her body language. STOP STATTING PHOTOS, it DOES NOT WORK with this style.
22 - 23-24. Cool stuff. Didn't quite understand it at first, but I think it works well.
25. HAWT. After a catch like that, he definitely deserves a little over-the-shirt sideboob action.
Gag page. This should be moved, and the typeface is almost unreadable.
Chapter 2 cover. Her eye looks odd here; as a profile shot with her looking ahead, her lens/pupils/etc. should not have any white in front of them.
26. HAWT. Her face is melting again in panel 2, with her lower jaw shrinking too far back. If you drew a line up from the point of her chin, it would be in her eye. Compare that with Kathryn's chin below: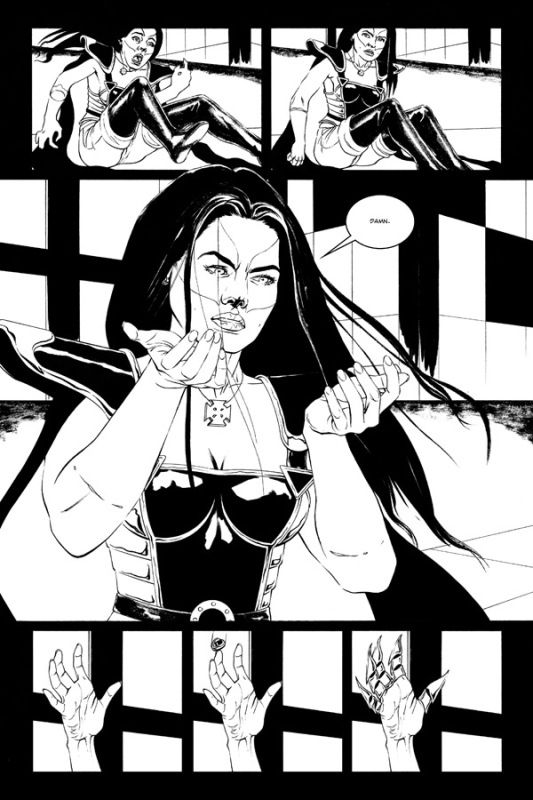 ...the styles are different, yes, but basic construction remains (or should remain) the same.
27. I like this page a lot, the inking style and drawings are smoothly done. However --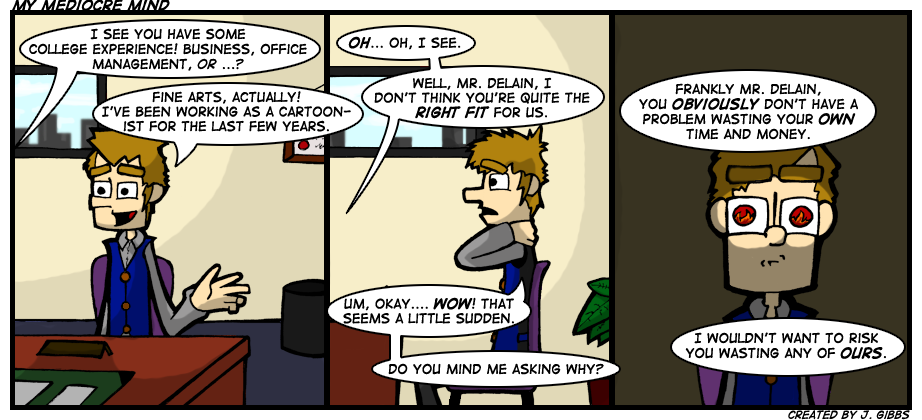 After: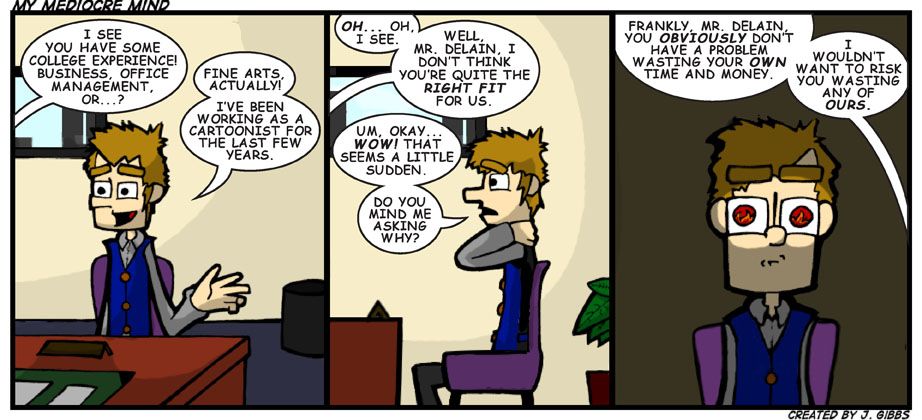 -- that big bubble hanging off his neck in panel 2 is just... sigh.
The FLAP panel is just WONDERFUL.
FLORP!
...yeah, I'm stealing that sound effect. I'm stealing it harder than John McClane dies WHICH IS SO HARD THAT HE
DOES NOT DIE.
florp
28. This page only works in context with every other page; ideally, each page should work more or less on its own. This page is an unusual way to tell what you're trying to tell; the part that kinda doesn't work is not seeing the dude but still hearing him.
29. Again, trace anything you need to, but DO NOT STAT PHOTOS INTO THIS COMIC. It is PAINFULLY distracting with a style like this. IT BURNS LIKE...
LIKE...
...just don't do it.
WE DIDN'T STAT THE FIRE
WE CAN'T ERASE IT
AND RECOMMEND THAT YOU TRACE IT
WE DIDN'T STAT THE --
30. I like her eyes in panel 1, and his body language in panel 2.
31. Panel is odd; I have no idea what's Churring, but I find that I wish it was FLORPING.
32. I really like beardo's design.
33. This is much more appropriate fire; feel free to lasso, copy, and paste this where the photo of fire is on 29. Easy, and peasy.
34. This is composed and animated very nicely.
35. Too many lettering effects, but I like this page. Again, great eyes.
36. This pose would have benefitted from some photo reference, but the image is still effective. I say this as an artist and not a horndog (although I am quite the horndog): it's weird that we don't see nipples here.
37. I think we're at the part where we're reading like proper AMERICANS; if so, there's an issue with panel 1, which it that spatially it sort of occurs after panel 2. It's not a huge deal on a semi-collage-y feeling page like this though. I'd have shot him from the front; his sideways angling away from her disconnects them and makes the mirror hard to read visually.
38. I love how she's drawn here BUT I'm getting sick of the constant shifts in lettering. It really erodes the sense of conversational and character continuity.
39. Very expressive.
40. This is pretty, and about to make sense on the following page, I presume. Again, we have a melting chin in panel 1. Have you ever tried doing some proper turnaround drawings? Because the physical shape I see in the profile shot does not match the 3/4 shots.
41. I normally don't like the cartoony interludes in manga, but good God you've NAILED the one in panel 2. Really funny.'
42. Oh, that's a MUCH BETTER 3/4 shot in panel 1! Lovely. And again, the three subsequent cartoony panels are suprisingly likable for me, and guy who again normally hates that sort of thing.
43. This is the best photo-stat, but I'd have run it through a filter or two. Maybe. I don't know, it's LATE.
44. This work is getting polished enough that a big mess of graphite to indicate hair color is starting to drag down the overall images. Several chinless wonders here; is that a manga thing I'm not familiar with?
45. This last line really amuses me for some reason, like the hair color HAD to get pointed out. Heh.
GINGER SNAPS.
46. Again, this is a much more professional page than the graphite scribblings darkening the hair would suggest.
47. Thsi one looks rushed. I checked the comments; you had a "bad day". I hope you sang a sad song JUST TO TURN IT AROUND.
Good on you for getting a page out regardless. I usually don't on a BAD DAY YOU'RE TAKIN' ONE DOWN
/onehitwonderwhyohyeahthealbum'scrapiswhyohwell.
48. The first panel is really hard to "read", and the second abandons your style completely. I don't love this one.
49, 50. I have no idea who this guy is or what he's reacting to. So, something could be clearer.
Chapter 3 cover. Gorgeous. Wish she had a nose, and that all the other hair looked like this. I actually took the time to rate this 5 stars.
51. VERY nicely drawn. This is a very "your style has gelled" sort of page.
52. Wonderful storytelling, nicely drawn people, and a good use of a slanted piece of dialogue in the "sigh". I like the typeface for it too.
53. Art's solid here, but that grey grad... those can be a bitch, and this one looks a little messy as it interacts with the art.
54. Panel 3 -- we really don't want balloons overlapping faces or hands. We really don't. More than all the other body parts, faces and hands "speak" and help tell the story. It's really like slapping a balloon over a balloon; you're depriving us of the full story.
55. Black bar through his face looks weird. I'd have left his face un-split and overlapped her dialogue into his panel for a sense of connection and continuity.
56. Really good looking page. I'm a little lost on the story though -- she isn't her, but she is?
57. It's just not occuring to me: does the typeface need to be THIS BIG?
58. Oh, she's the blonde chick from the first chapter? I think? And apparently no, the typeface doesn't need to be so big...
59. It looks here like you're coloring up to the lines; if so, well, you're supposed to put the lines on another layer and then color under them. I like the image.
So.
Overall: It's an interesting story that's told refreshingly breezily (the prologue had me nervous about pacing). The style is pretty throughout and always improving, along with most things in the comic. Inconsistencies in lettering and inappropriate use of photos threaten to drag the experience down repeatedly, but the tale remains enjoyable despite production issues, and several images are bloody stunning. This comic also contains by FAR the best cartoon interlude manga drawings I've come across. I like that there's a lot of experimentation going on, but I'd like a hair more clarity.
_______________________
(The poster formerly known as Pigtails McBonergiraffe)
Read
6+ Issues of SwordCat Knights™
FREE! |
SCP Patreon Rewards!
|
Twitter
| "
LIKE
" |
Please VOTE
!