"2019 BLIND DATE Valentine's Crossover Exchange!",
29th Dec 2018, 3:44 AM
#1
HeSerpenty
Registration date:
23rd Nov 2012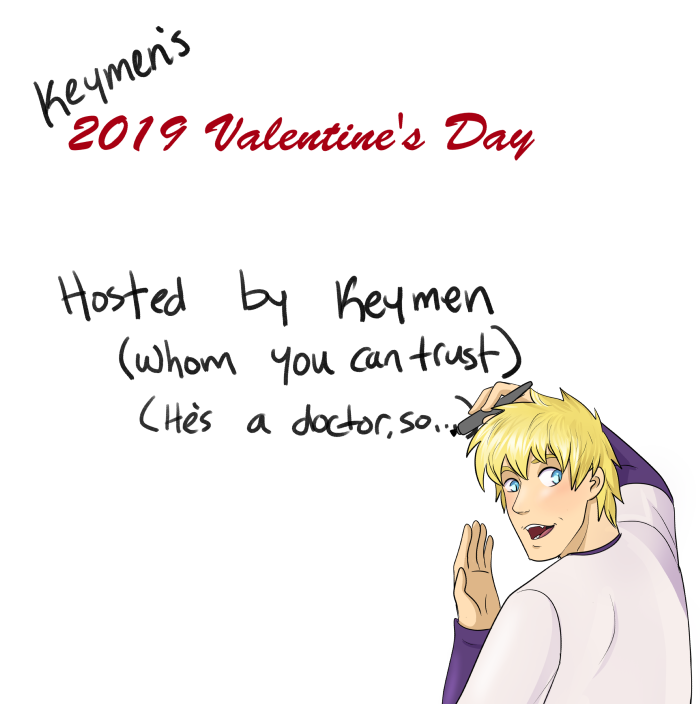 HEY everyone! It's that time of year again! WAIT a minute? "Blind Date" crossover exchange? What's THAT, Serpy? Well let me tell ya..
I was trying to think of how to make the V-day Crossover exchange different. Last year it occured to me..."IN LOVE 4"? That's four years of the SAME thing y'all. I know what you're thinking... if it ain't broke why fix it? Well..........I don't have a good answer for that I just wanna try something new. SO! It will either be really good or really bad!
SO HERE'S the deal!
This isn't like the crossover exchanges in the past. Everyone will be submitting
1-2 characters
to enter the "Blind Date" pool....and once signups are closed the random pairings will begin! Instead of "Serpy is assigned to <enter comic name>" it will happen like "Serpy's character takes <other person's character> on a blind date." Does that make sense? What EVERYONE should do is read the comic from which that character is from and get to know that character--
exchanges are ALways more fun when you try to be true to the other person's character
, but ESPECIALLY in a thing like this. A date doesn't have to be ROMANTIC, okay? It can be awkward. It can be friendly. Doesn't have to be kissy lovey mushy bleh. But it CAN be... if you want :P
Now...I know that when it comes to this sort of thing there are a lot of worries. My answer is...it's randomized! your poor characters don't get to pick who they have to go out with so it's not like any of this is canon. The way I see it... there's a lot of fun scenarios that can happen. USE YOUR CREATIVITY FOLKS. I'm tellin ya.
Now each character will be going on TWO dates on V-day (since you will be assigned a character and your character will also be assigned to someone else). I've thought about this. When I send you the PM with your assignments I will tell you your caracter will be going on either a "day time" or "night time" date. I'll give better instructions in the PM don't worry xD
OKAY enough chat.... let's talk about rules...
THE RULES:
1. RESPECT.
--
I will be a huge stickler for respecting the other person's character in this exchange. If you do something degrading to them I won't post it. I'll make you redo it oooor I'll send it to a backup artist. I'm serious about this.
2. NO NSFW.
--
Due to the sensitive nature of this subject matter, please don't draw anyone else's character in a NSFW type scenario. Keep it PG!
3. KNOW your limits!
--
I'm letting you guys submit up to 2 characters....BUT PLEASE...that means you have to draw two different quality scenarios for blind dating. Think about your school, day jobs, own comic update schedule etc...and do NOT submit 2 characters just to back out. Please don't do it. If you MUST do it, give me plenty of notice. I'd hate to have to publicly call you out...which I will do if you drop off the earth and don't communicate with me.
4. HAVE FUN!
--
The most important rule! After the first 3 XD. This is a fun thing everybody--I'm really excited about it. I hope you are too :3
5. GIVE ME NOTICE IF YOU HAVE TO CANCEL!
--
trust me, I know life happens. I won't punish anyone for that but you have to tell me as soon as you know. Please and thank you.
WHEN YOU SIGN UP FOR EXCHANGE....
Please tell me the name of the character, the comic they are from, aand........ please fill out this little template I created for you! It'll help when I go to send out the PMs :3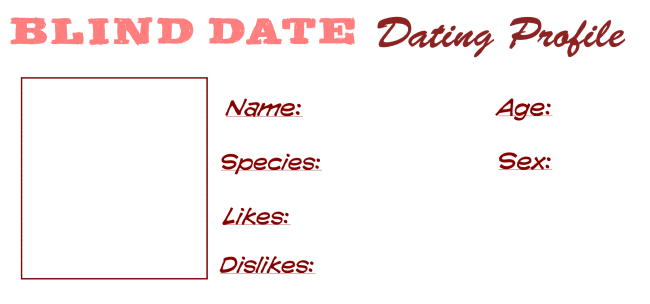 (you don't have to draw a profile if you don't want...you can copy and paste from a panel of your comic if that's easier!)
Remember...two characters means two assignments. If you're busy, only submit one. :). I want these to look as nice as they can possibly look!
And I think that's about it! I'll probably remember stuff I forgot later X"D
IMPORTANT DATES:
* SIGNUPS CLOSE
January 3rd
* ASSIGNMENTS SENT
January 4th
*
EXCHANGE PIECE DUE February 10th
(that's over a month..and gives backup artists a couple days to save the day. But I'm gonna think the best of y'all!)
* EXCHANGE STARTS UPDATING
February 14th!
12 am sharp (pacific time) in 10 minute intervals!
-----------
I'll Go ahead and kick this off. Follow this example if you would!
I'm submitting Hizruk from
Serpents of Old