"The Room of Scrutiny (Illustrated OC Question Thread)",
28th Feb 2019, 10:21 AM
#1
not the one who meowed (?)
Registration date:
11th Oct 2017
THIS WEEK'S QUESTION
: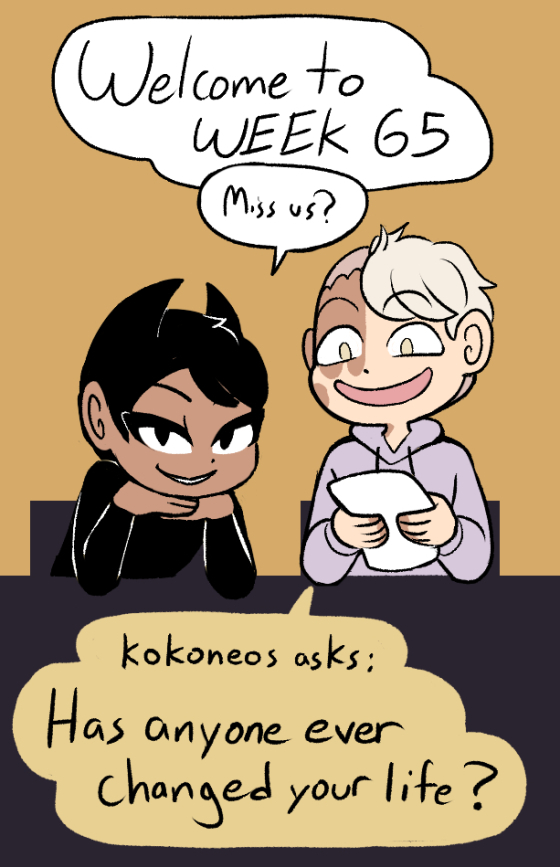 INTRO COMIC
(You new? Read this before joining!)
THE HECK IS THIS?
It's simply your typical "What is your OC's favorite color?" or whatever thread, but, ya know, you get to doodle their responses and have a chance for your characters to interact and respond to others (Like RP???) but that is totally optional. IF anyone thinks this sounds like fun, slap your OC's (as many as you want) down!
Note: The room refreshes with a new question every Wednesday, leaving the previous week's events in the... previous week, so don't worry about having to study up on the backlogs.
SUBMITTING A QUESTION
If you'd like to submit a question to be asked to the OC's here, just shoot a PM to
Dyohna
. Let her know if you wish to remain anonymous for your question or to go under another name (Like "Pickle-McShmeeglehort"). Otherwise, your username will be the default!
RULES
> Please don't stray far from the week's topic. A little RP, a few remarks, banter, sure! A side-quest or epic tournament that completely changes the setting and makes it difficult for new guests to come in and answer? Better not.
> Respect other people's characters. This means not taking full control of them as if they were your own character. Giving them a chance to react when they're acted upon would be ideal, if you can. It can be a tough call as it can make some situations difficult to draw out, or the artist is just AWOL for a long period, so use your best judgement, do it sparingly if you need to, and
read the room
.
> This thread is meant to be for anyone, which may include more sensitive participants. Let's avoid the heavy triple-X adult material.
Previous Week's Questions:
Week 1
"How would you describe where you came from in 5 words or less?" -Nia Nuke
Week 2
"Who [or what] is your arch-enemy?" -ShaRose49
Week 3
"What is your greatest skill? Can you show us?" - Taily
Week 4
"So the End of the World is coming, are you ready for it?" -NoiV
Week 5
"What is your goal and what are you doing right now in your comic?" -Zero Hour
Week 6
"What do you truly desire?" -Lucifer
Week 7
"What is your most embarrassing memory?" -HeSerpenty
Week 8
"What are your hobbies?" -Jay042
Week 9
"If you could change one circumstance in your life, what would it be?" -HeSerpenty
Week 10
"If you had a theme song, what would it be?" -Zero Hour
Week 11
"Who is your favorite person and why?" -CrimsonSlitherDaddy69
Week 12
"If you were to become a flower for a day, what would you be?" -Eve Z.
Week 13
"What is your dream job?" -HeSerpenty
Week 14
"Could you present other characters from your comic to us?" -Zero Hour
Week 15
"Can you talk a little about the lore of your world?" -Zero Hour
Week 16
"Your biggest secret?" -Princess Lom
Week 17
"If you could be any food for a day, what food and why?" -SunnySideUpSmile
Week 18
"What is the weirdest thing about yourself?" -Zero Hour
Week 19
"How is your love life?" -Melancholy
Week 20
"One person from your story tries to kill you, and the other is protecting you, who would it be?" -Princess Lom
Week 21
"You just met God. What do you do?" -Zero Hour
Week 22
"Can you show us some interesting items from your world?" -Zero Hour
Week 23
"If you could change one thing about yourself, what would it be?" -HeSerpenty
Week 24
"How do you think your story is going to end?" -DoomEdgeMasterGodSlicerMegaSlayer420
Week 25
"What are you?" -Zero Hour
Week 26
"What do you find attractive in a man/woman?" -Lord Fartquaad
Week 27
"Your greatest fear incarnate has come out of the closet! What is it and how do you react?" -Kokoneos
Week 28
"How much can you dead lift?" -Zero Hour
Week 29
"Who is your best friend and why?" -Princess Lom
Week 30
"Who's the cutest person you ever saw?" -SomebodyWithNoMeanIntentionsWhatsoeverISwear
Week 31
"Were you "Born in the Wrong Generation"?" -Kokoneos
Week 32
"What was your first job?" -Kokoneos
Week 33
"If someone you like/love would betray you, what would you do?" -Princess Lom
Week 34
"What's the creepiest thing from your world?" -Zero Hour
Week 35
"What are you going as for Halloween?" -NiaNook
Week 36
"Is there a thing that you abandoned in life?" -Zero Hour
Week 37
"Could you talk about or sing a song from your world?" -Zero Hour
Week 38
"What is your morning routine?" -Dyohna
Week 39
"When is your birthday?" -Zero Hour
Week 40
"What is your happiest memory?" -HeSerpenty
Week 41
"Is there anyone or anything you hate?" -Zero Hour
Week 42
"Are you homosexual, bisexual, or heterosexual?" -Princess Lom
Week 43
"What do people from your part of the world do for entertainment?" -Jeremy7
Week 44
"Do you have any interesting traditions in your world?" -Zero Hour
Week 45
"What would you do if you happened to be genderswapped?" -Zero Hour
Week 46
"What's your kill count?" -CreapFactor2999
Week 47
"Do you have a weak point?" -Princess Lom
Week 48
"What is something that makes you happy?" -Zero Hour
Week 49
"What do you do to relax and unwind?" -Kokoneos
Week 50
"You're going on vacation. Where to?" -Kokoneos
Week 51
"Who was your first crush?" -Zero Hour
Week 52
"Is there anyone you wish you had never met?" -Kokoneos
Week 53
"What is the strangest thing you've witnessed?" -Zero Hour
Week 54
"Are you rich?" -Shlomo the Shekal Stealer
Week 55
"How do you reproduce?" -( ͡° ͜ʖ ͡°)
Week 56
"Someone important to you is sick. Do you have bedside manners?" -Kokoneos
Week 57
"Do you have any interesting attacks, powers, or transformations?" -Rakatakamakapakakadakalakamadafaka
Week 58
"How do you smell?" -Sound of heavy breathing
Week 59
"Have you done something illegal?" -Not the cops
Week 60
"What is your full name?" -The one reading this paper
Week 61
"You suddenly have to provide entertainment for a children's party. How good are you at it and what do you perform? -BMR
Week 62
"What are the specificities of your author artstyle?" -Zero Hour
Week 63
"How do you approach a subject you don't like?" -Timishayd
Week 64
"Have you ever gotten in trouble with law enforcement? What did you do and how did you get out of it?" -BMR