"Mafia CIII: Conclave",
11 days ago, 6:08 PM
#1
Drum bum
Registration date:
15th Jun 2016
Location:
breaking into your house and stealing your dogs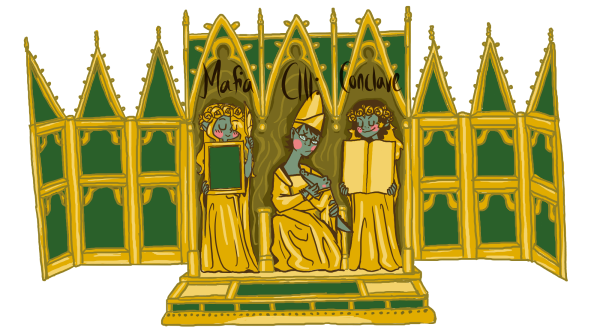 (Flav from the amazing Trad)
Things did not exactly go to plan with the Dialogical Council of Reuniting Christian Brethren And Body that His Radiance,
the late Pope Sebastian VIII
, [Bishop of Rome and "First Amongst Equals" had called shortly before his death. But never did these interfaith meetings ever go well – for one, the Church had been arguing with itself for millenia at this rate – each week the Holy See's news aggregator service received news of whatever new denomination that had schismed over issues ranging from the primacy of the pope to a misplaced apostrophe (in the KJV) of all things – and for another:
"You
will
leave the ladder alone,"
Xenocartographer
stated calmly, as she began to peel a big pomegranate in a rather threatening manner, "Or you will be dangling from it, mark my words -"
"And you will attest to your words being marked in the Lord's own Domesday book, yes," said the rather haggard, skull-like walking cassock in a thick accent that could only be described as Swedish-Greek. He leaned closer to examine the Renaissance painting hanging on the wall of the conference room – was this Salvator Mundi? It had last been seen in New York, 2017 before disappearing for decades. "I am sure the flock back home in Armenia would be, well, how do you say it? Pleased? To hear their Partriach had been fussing about ladders."
"And it will be good for the Greek Catholics to know that their Bishop
Jeremy Seven
covets the property of others,"
Xenocartographer
replied. She popped a handful of seeds into her mouth and was quietly pleased to note that while the Catholic Bishop of Rome had done his best in procuring suitable fruit, it still paled in comparison to the produce of her homeland, Armenia.
Pettiness and the act of bearing an intense grudge was one of the other factors. In this case, the Partriach of the Armenian Apostolic Church and the Catholic Bishop of the Eastern Orthodox Autocephalous Church of Greece were fighting over ownership of a particular ladder sitting on the ledge of the Holy Sepulchre. They had been going at it almost immediately when the Council had first convened – and only by tremendous amounts of planning and foresight on part of almost every church had they managed to remain a bit civil.
Around them, similar other debates, friendly chitchat, and threats both quiet and loud formed the undercurrent of the Council's going-ons. While Sebastian VIII had tried his best in inviting most, if not all denominations (there were some he had a quiet word about) extant in the world today – or at least the major representatives, the Protestants were harder to get hold of – although the Anglicans had appointed
Archbishop Comics
, who had, upon introduction to Sebastian VIII, insisted that he be referred to as
Minister Comics
instead with a wide grin, while almost crushing the Pope's unringed hand in his much-decorated one. Sebastian VIII had given an audible yelp in pain.
Nama
, Franciscian friar of the Brothers of St Tomoko and Our Lady of Niame in the Diocese of Chi-Okosu in Shingo, Aomori had to be pulled off of
Minister Comics
afterwards, but not without exchanging black eyes. They were now on the ivy-tangled balcony glaring at each other, with
bizfurd
, the Pope's recently-appointed personal secretary trying to play mediator between one another. The presence of the Papal secretary and the certain knowledge that there were many eyes observing them through the French windows leading to the balcony held them back from pummelling one another at the drop of a hat.
While the Protestants were nigh impossible to gather, the Catholics and the Orthodox were a bit of a mixed bag. The schismatics within the Roman Catholics had declined to send a delegation to who they denounced as the antipope, while the Slavic Orthodox had decided to work together with Constantinople and Athens and threw their support behind
Bishop Jeremy Seven
, though the Holy Syriac-Chaldean Patriarchate had sent their own representative:
Trav, also known as Maev
.
Trav/Maev
had not expect a person of their own standing to be sent as sole representative of the Holy Syriac-Chaldean Patriarchate to the Council, but when the summons had came in, she took a deep breath and accepted after a few days of consideration. For a while, her faith, flagging in these trying times, had been reignited by the prospect of being able to discuss divinity with other experts – but he had been eavesdropping on the 'ladder debate' and the doubts slowly made themselves know again. At this point however, he had decided to sit in a corner with a glass of wine and smile and nod as
Abouna Turquoise
engaged him in a rather one-sided conversation about the recent Coptic revival and his next project. It wasn't unwelcome – it was one of the more illuminating, less petty and more energising conversations she had in recent memory, in contrast with the constant griping about the Lord.
Abouna
Turquoise
– Abouna being the equivalent of "Father", Turquoise kindly explained when
Maev
had made that initial mistake – himself was quite happy to find someone willing to listen to him – not for his status as candidate for the next Coptic Pope, but for his passion: the magic of languages. While Babel was read as a cautionary tale against hubris,
Turquoise
saw it as the Lord granting a gift – in the multiplicity arose beauty – and the beauty of liturgy could be enriched further if only more people spoke it. That meant vernacularising, or reviving the language, which, after decades of effort and with the consultation of rabbis and academics, he had managed to do so with Coptic. It was a minority that spoke it fluently, but they were there! And the next thing he was planning to do was to start a school system in Coptic and Arabic.
At this point
Trav
felt himself nodding off quite pleasantly, into a dream not filled with concerns about God. But the arrival of Catholic Archbishop
Shuffle
of the new diocese of Unwise – a historian of Mesopotamia before her entry into seminary which resulted in her specialising in the history of exorcism as well, leading to a neck brace and a hatred for pea soup – jolted him out of his reverie. Very rude.
Even worse was when she started asking him questions about the theology practiced in the Patriarchate. Goddamnit!
In another corner of the conference room, locked in a three-way conversation, was a robed Jesuit
Skybuilder
, the rather well-built Korean Bishop of Incheon
LMS
and the English Bishop of Walsingham
Willow13
.
Skybuilder
had been assisting with the recent reconstruction of the land of Cvstodia, but was suffering from a dearth of priests and a spiritual network – he had requested to attend the Dialogical Council when he had heard that the Bishops of Incheon and Walsingham would be there – and to his surprise, here he was, discussing matters of evangelism and rebuilding with them.
"So you see, we really need to set up a structure of and a series of missions – while my order's history has been fruitful in that regard, I'd like to discuss more practical matters suited for today's post-colonial world –"
"Like a network! When I was at Santiago de Compostela, Father Kyo was very good at helping the city and networks develop through the pilgrimage routes – and I really wanted to bring that to Walsingham as well, but keep its character." Bishop
Willow13
said. She had also been a former travelling saleswoman,
Skybuilder
had learned, which sort of explained her economic passion.
"Well, the Protestants might be a good help in that regard," Bishop
LMS
said, sipping on his protein shake, "But their influences must be curtailed, their liturgical and doctrinal shallowness are absolutely – customs and ideals must be upheld, which the Holy See has been –"
"Please don't start on Vatican II again,
LMS
." A new voice cut in, weary-sounding. They turned around to see the ever-frazzled
Seabiscuit
, carrying a stack of books. "Sorry, but when we were studying together he'd
always
start talking about how Vatican II was a mistake. Anyway, where is His Radiance? He asked me for these Mariological texts - "
"His Radiance is dead."
A hush fell upon the room, silencing every conversation as Carmalengo
Nyomi
entered, flanked by
Komi
, the chaplain of the Pontifical Swiss Guard, and her Undersecretary
Rokulily
.
Komi
looked nervous – fidgeting with her animal ear headband.
Rokulily
less so.
"<This cannot be,>"
Spell
, Reverend Abbess of St. Clara of Seville's Theresan Reformatory and Seminary said, her attention briefly distracted from her intense scrutiny of the blank television screen, "<He was meant to have recovered, his illness is brief>"
Nobody really understood her, given that she was speaking in terrible a Latin-Spanish hybridised abomination of a language, but they got the gist.
"His Radiance, Sebastian VIII died a few hours ago," Nyomi said, head held up high and face cold and expressionless. "But his dying wish was to see this Council fulfil, to the best of his ability - "
"Hold on! Your Pope has died, and you're thinking about – about finishing this Council?! Why not deal with his last rites first?" Murmurs of agreement sounded –
LMS
looked especially stormy,
Bizfurd
panicky.
"Because the Cardinals will take their sweet time to assemble – and imagine the panic if news came out that the Pope died
during
a Dialogical Council where all of us are gathered?"
The room fell silent once again as the implications settled in. The Carmalengo nodded, ostensibly as emphasis.
Some of the attendees in the conference room quietly blinked in response, their signal unnoticed.
"We will continue the Council, then attend to his last rites. We will fulfil its purpose, and help decide the future of the Church. Together, we will guide the flock. Let us pray."
And as everyone bowed their heads in prayer,
Rokulily
darted a quick glance in
Nyomi's
direction. The Carmalengo held her rosary in a stranglehold grip, her lips moving in a frantic prayer for forgiveness for what she was about to unleash.
---------
Welcome to Mafia CIII: Conclave! Nyomi, Trad, and Roku are here to bring you the finest in religious gaming experiences... although actually if we're killing popes, that may be sacreligious.
If you need a reminder of general mafia rules,
this FAQ/rules is basically what we're going by.
If you have any questions, don't be afraid to reach out!
You're welcome to make alliances and talk to one another outside of the game thread, but please let the hosts in on any dirt that happens. Soft role-revealing is allowed, but if you show your role PM I'm taking your kneecaps as compensation.
Roles are going to remain mysterious for now - you don't know what your fellow clergymen can do - but role PMs should be sent out soon. Once the roles are sent out, we'll start the 24 hour day phase. <3
---------
Player list:
1.) Spell
2.) Nama
3.) bizfurd
5.)Komi
6.) Jeremy Seven
7.) Mi(ni)ster Comics
8.) Skybuilder
9.) Trav/Maev
X.) enocartographer
13.) Willow13
14.) Shuffle
16.) Seeeeabiz
18.) LMS
19.) Turquoise
_______________________
Currently face down in a spilled, melted puddle of a 711 cherry slushie in a Denny's Parking Lot with the ruined remains of my Danny Phantom fanfiction just out of my grasp. I think I hear the whispers of the ghost boy laughing at me in the distance, but that may be the delirium.