"Mafia VI",
4th May 2011, 3:44 AM
#1
MatthewJA
Usertitle Hater
Registration date:
26th Sep 2010
Somewhere in the middle of nowhere is a small town called Comicfuriton. Best known for the various stories the small population exports to other towns and cities, Comicfuriton was a fairly peaceful place, with the exception of rowdy arguments now and then and a small troll, while harmless and almost pitiable, that was extremely annoying.
Lately, things have gotten rather exciting. One cold, blustery morning, a persistent miner stumbled on a rather remarkable find - gold. People flocked from all over, vying to get their share of the precious material. The locals, of course, were able to get quite a bit from the strike, and the town grew in leaps and bounds. Some locals even started to write about themselves!
Of course, where one thing improves, another decays.
There were more trolls, for one, but they were still pretty harmless.
Most people thought all was well in the town. Then the Police Chief made a discovery.
On one of his routine rounds, he stumbled upon a shocking underground chicken fighting ring. Some cruel people were forcing chickens to fight each other, and then betting upon it.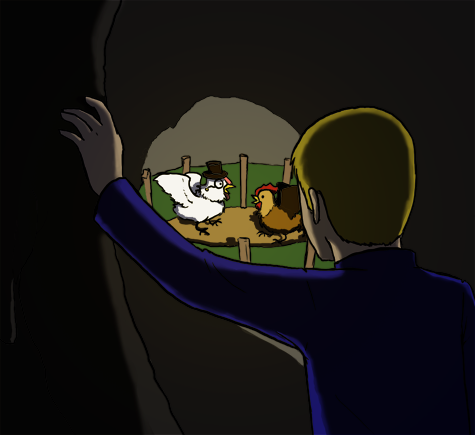 Oh, and then they shot the police chief. UNTIL HE WAS DEAD.
A quick investigation revealed that the chicken fighting ring was run by none other than the mafia.
But in this town, everyone knew everyone. Who could be the mafia? There was nobody new...
Then it hit them. The mafia were so deep undercover in their town that they could be anyone.
Rules
* Every day phase, everyone votes in-thread to kill someone.
* Every night phase, roles perform their actions.
* DO NOT DIVULGE YOUR ROLE TO ANYONE. Not in-thread, not in PM. If you are caught doing this you will be punished SO SEVERELY you will never be able to use the toilet again.
* To sign up, copy the list and add your name.
* When the game begins, I will PM you with your role.
* If you have suspicions, announce them in thread! Not secretly.
* The aim of the game (for the villagers) is to kill all the mafia. For the mafia, the aim of the game is to equalise the numbers of villagers and mafia.
* No sign language
Roles
In Mafia VI, there's a role for everyone! That's right, 25 roles!
And who's in this village?
1. Magravan
2. SuperPie
3.
Orangelink
- The Avenger, shot, along with his teacup platypus.
4.
NoRemac9000
- Gossip,
killed while talking in his sleep.
5. BANDKANON!!!
6.
Purity of the Crystals
-
The most successful village idiot yet encountered.
7. Jrade
8. Silver Streak
9.
Leiko
- Corrupt cop,
killed by the werewolf and smeared all over the jail.
10.
Milanor the Silver Wolf
- Impersonator,
pretended to be ranger but was caught out.
11. Kristy
12. Frosty
13.
Thatguy1280
- Promoted Rookie Detective,
Shot by the mafia while writing the name of one of his reads all over the walls.
14.
Lawelite
- Godfather,
killed in an epic lightsaber battle between him and yours truly.
15.
MattWL
- First Iteration Werewolf. The mafia killed him and then stole his cake.
16.
FFAA
- Police Chief,
shot by his deputy who was in fact corrupt.
17. OneCanofSprite
18. Kimmy
19.
Macey
- The dragon,
shot down when she couldn't say who the mafia were. Or maybe they just killed her because she stole their role.
20.
Antihero
- Moocher,
pissed out of his mind when the town shot him.
21.
Emill
- Doctor,
killed by the village in the veggie patch where he belongs.
22.
CAPPS
- Detective,
lynched for being rude and having confusing arguments.
23.
Salty
- Easter Bunny:
part rabbit, part vegetable.
24.
Spinnerlink
- Analyst, decided to betray the village.
25.
Cogs
- The rat,
killed by his own mafia - or at least, their new convert.
_______________________
OnlyFoolsAndVikings:
god, upon creating life: [matthewja voice] its a feature