"Werewolf XVII - Of Winners and Losers",
12th Oct 2011, 5:48 PM
#1
Onecanofsprite
Registration date:
3rd Apr 2010
Location:
The place where everybody drinks Tea
It was a busy day in the small town in England. It was far gone since Lunchtime, but Tea time was still well out. You'd have thought that somebody would notice a large purple vortex opening in the local convenience store. But surprisingly, nobody did.
In this store, a young student contorted his mind as he faced the ultimate question.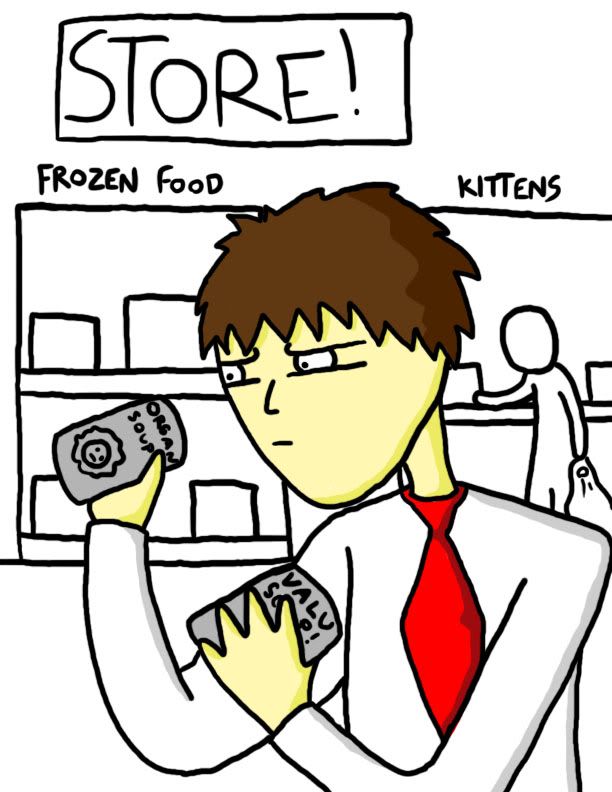 "Organic soup... or... Value Soup?" He pondered to himself, his concentration level being of extreme power. He was commonly referred to online by his alias Onecanofsprite. But to think he was the same in real life would be misguided. For one, he did not have ridiculous hair that looked like it was conditioned with Napalm. He had not procured a nice red suit or sunglasses. In reality, he was just a normal guy with a fascination with the paranormal. But incredibly, a large purple portal opening behind him did not distract him in any way whatsoever. Out of it stepped an old man wearing purple, with a clipboard in one hand.
"Sprite... Sprite..." He muttered to himself. "Damn it, where the devil is OCOS?"
Upon hearing his name, the boy turned around and faced the man. "Hiyo? Who are you, and what do you want?"
"Hmph. I'd have thought you would treat me with more respect then that. Perhaps you don't know who I am. I am The wizard, ruler of forum gaming, and the one that controls those blasted forum games you keep running. I am here upon two accounts; Firstly, to thank you. Your contributions in the way of dead souls has brought me power for my meta-universe to last for several years from the amount of games you've run over the last year. Secondly, I have an offer for you: I would like you to run one of these forum games for me, and in return I might just let you live on behalf of your charity."
"Uhhh... No thanks. Besides, I fell asleep halfway through that monologue." The kid replied, much to the wizard's anger.
"Let me reiterate that. If you don't help me, I'll do bad things. Like, I'll kill you."
"You don't scare me, granddad." The student replied arrogantly. "Besides, I have more important things to do. Like decide what my dinner shall be."
The old man retreated to his portal furiously. "You'll rue this day, OCOS!"
"Hey, wait!"
"What?"
"Should I buy Organic soup or Value soup?"
MEANWHILE
All lay quiet. Nothing stirred at all in the streets. The town was desolate, destroyed. The entire civilisation of this once peaceful (And 3 dimensional) town had been wiped out. Only one man crept through the streets. This man was a much more traditional Sprite people were used to. But something was different about him then the one that had perished in the custard factory. His clothes were slightly dirty, cut from previous encounters with the game. He showed no remorse for the dead villagers that lay dotted around the village. He just quietly stepped into one of the Custard factory warehouses and sat down on a stool. The desk was decorated with plans and furious scribbles, and a Model of the village, complete with figures of the villagers was on it too.
"Every damn time... I've been at this for what, 4 games now? All I ever wanted was to get the hell out of here. To find out who I really am. And every time I tried to lead my new copy to safety, he always screws up and gets killed somehow." He said, a tear rolling from his face in frustration.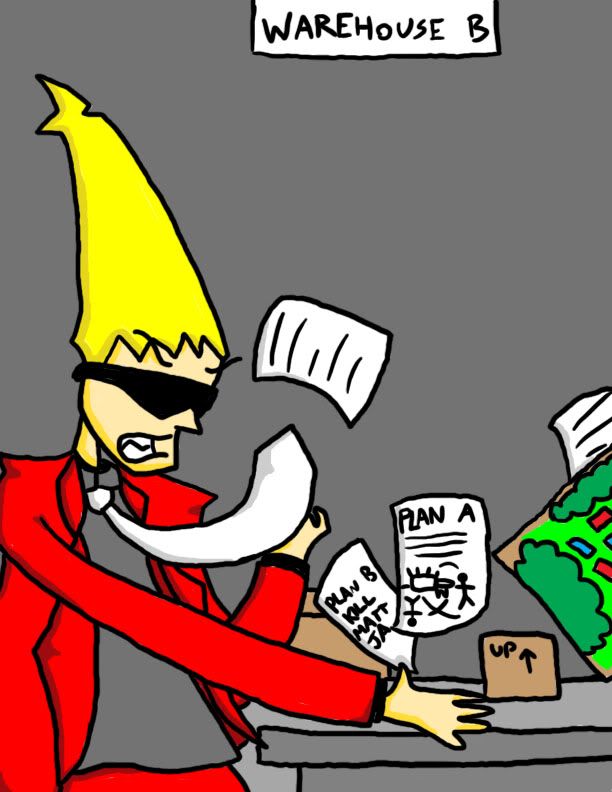 "GOD DAMN IT!" He screamed. "EVERY TIME I COME SO CLOSE TO ESCAPING BACK TO REALITY, SOMEONE STEALS IT FROM ME. EVERY TIME I CAREFULLY CONSTRUCT THESE PLANS AND GUIDE MYSELF TO VICTORY, SOMEONE STEALS THEM FROM ME. I'VE HAD ENOUGH OF THIS BULLSHIT!"
He eventually settled down, and placed his forehead on the desk.
"It's not fair... I just... want to live..." He sobbed to himself. But then, his head suddenly rose up.
"Wait... Of course! That's it! I don't NEED to be alive in this game to escape! It's so simple!" He exclaimed. He ran over to the other side of the warehouse and dug out a small box, big enough to contain a watch. He opened it, and it's golden shine made him grin. "And this time... Nobody will be able to stop me from reaching freedom!"
Roles
Players
Welcome to Werewolf XVII. I'm sending the roles out now, but the game itself will not start until 6:45 AM GMT. Hope you enjoyed the introduction. Thanks, and have fun.