gloomy-optimist's Profile
Last seen:
22nd Jan 2019, 4:47 AM
About Me
I'm an artist with a degree in both animation and psychology, and I'm very interested in stories! I have a wide variety of interests, and world-building is one of the most enjoyable ways of combining many of them. You can check out more information and art on
my doodle blog
!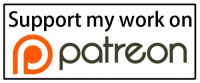 gloomy-optimist's Webcomics
Mirror
Mirror
Shadows aren't only found in the dark.

Complete!
Last update:
4th Dec 2014